From its humble beginning back in 1938, brother Al Ferreri, sister and brother-in-law, Frances and Chris Pacelli, Sr., began experimenting with what is known today as Chicago's # 1 Italian Beef Sandwich, an honor bestowed upon it by Chicago Magazine in 1980. Its many accolades include:
The good (but cheep) Chicago Restaurant book, 1974, Chicago Magazine July 1980 "The best Italian beef", Chicago tribune weekend section Friday July 25, 1982 for "Chicago street foods", Chicago Sun-Times Food section Guidelines for Gluttons, May 5, 1983, Chicago Sun-Times "The primer Italian-beef stand in Chicago", Pat Bruno, October 28,1984, Lerner Communications bestowed upon Al's in 1993, with an award for the "Best Italian Beef", Al's Beef appears and is recommended in the following publications:

Good food for the adventurous Eaters;Guide to Restaurants Serving America's Best Regional Specialties; The Joy of Piggin' Out, in the sandwich hall of fame section; and Hot Dog Chicago, A Natives dining Guide, TWA Airlines, inter-continental magazine AMBASSADOR.
1997 was a great year with appearances on ABC-Good Morning America, CBS-Channel 2 "Chicago's Best", The Today show, and Saturday Night Live.The June 13, 1997 issue of the Chicago Sun-Times North Side vs. South Side Special Section under Fine Dining, The North Side has LeFrancais, the South Side has "Al's No.1 Italian Beef".Al's was picked as one of only 10 Chicago food vendors to serve thousands of people at Hillary Clinton's 50th birthday party.And has appeared in a featured article of Gourmet magazine April 1998 issue.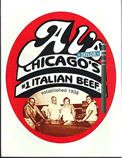 ---
The Original Al's #1 Italian Style Beef Our Story
For ordering, and out of state call toll free (800-618-0666), otherwise, call (630-858-9121) and speak with one of our consultants.
We Accept major credit cards: